Sit Strong Systems LLC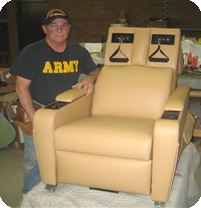 Each day is a gift and about making someone's life better. This is the driving force behind the creation of Sit Strong Systems LLC. The company was established with one purpose in mind – manufacture multifunctional recliners and chairs that promote healthy lifestyles. Years of research in rehabilitation and fitness have resulted in a function meets comfort concept of beautiful, yet functional, convalescent chairs and recliners.
Our patented exercise chairs provide easily accessible physical therapy for patients at all levels of fitness. Hidden inside each beautiful, durable recliner are resistance bands, which provide smooth conditioning for a full body workout. It is a revolutionary concept that provides increasing levels of resistance for strength training. Unlike other exercise tools, resistance bands are easy on the joints because the tension remains constant during the entire motion of the exercise. The bands are located in more than one place on the chair, which provides resistance from various directions and works every major muscle group in the body. The exercise chair can be used to aid a recovering rehabilitation patient, train an injured athlete, or serve as a home gym. The chair has especially been beneficial in the rehabilitation of wounded war veterans and is ideal for patient rehabilitation therapy in the home. With ever-increasing costs of hospital rehabilitation programs, a quality in-home alternative allows for earlier patient release and reduced medical costs.
In addition to exercise chairs, Sit Strong Systems offers standard recliners and convalescent chairs for patient rooms and healthcare facilities. These can be either manual or electric powered, and can incorporate a seat lift for ease of use. All Sit Strong Systems chairs are made with pride and manufactured in the United States out of the state of North Carolina. Some chairs are handcrafted by veterans themselves.
Sit Strong Systems products are utilized by commercial and government healthcare facilities. We are currently in the process of obtaining a GSA contract to make it easier for Government facilities to purchase our products. In addition, our chairs are available for in-home use and are available and represented across the United States.
Sit Strong Systems is a family run, service-disabled veteran owned small business owned by a father and two sons who have over 100 years combined in the furniture industry. They have a commitment to innovation, motivation and a passion for helping people embrace a more healthful lifestyle.
The father, Charles Bolick, is an inventor and co-owner of Sit Strong Systems. He previously owned and operated Alexvale Furniture Inc. for over 25 years. His company was the first fully upholstered furniture manufacturer in North America to obtain ISO 9001 certification. After more than 44 years in the furniture industry, Mr. Bolick wanted to use his experience to make products that promote healthy lifestyles but are multifunctional. He developed the exercise recliner concept in the hopes of helping patients regain strength and confidence – especially wounded veterans. David Bolick is co-owner and President of Sit Strong Systems. He has 24 years experience in the furniture industry. Tim Bolick, a service-disabled veteran and co-owner of Sit Strong Systems, has 29 years experience in the furniture industry. Tim is also owner and President of Paladin Industries.