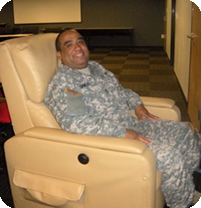 HICKORY, NC (October 23, 2009) Sit Strong Systems, manufacturer of rehab, healthcare, fitness chairs, has recognized the needs of many wounded warriors and hopes to make a difference and help in the lives of many soldiers.
The mission of the Wounded Warrior Project is to raise awareness and enlist the public's aid for the needs of severely injured service men and women, help severely injured service members aid and assist each other, and to provide unique, direct programs and services to meet the needs of these warriors.
Sit Strong Systems chairs were developed with disabled veterans in mind. The chairs have innovative technology for rehab with the use of resistance bands built into each chair. "We cannot let our wounded heroes sit alone in hospitals and other facilities. We must help these warriors gain strength and confidence," says Charles Bolick, founder of Sit Strong.
Upon visiting the WWP headquarters, Sit Strong Systems was able to experience the WWP TRACK program. This innovative program was launched in 2008 and addresses long-term needs for warriors. It provides education and training for participants and also provides secondary rehabilitative care for the mind, body, and spirit. The TRACK program facility has state of the art classrooms, as well as, a gym and individual work spaces for the warriors and instructors.