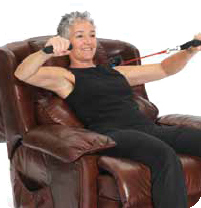 The following statements are all approved by the American Heart Association Science Advisory and Coordinating Committee pertaining to resistance training.
Resistance training, including the use of resistance cords, has been shown to have many health and fitness benefits. Resistance training offers greater development of muscular strength, endurance, and mass. Resistance training can also be beneficial to but not limited to the prevention and management of chronic conditions, lower back pain, osteoporosis, obesity and weight control, sarcopenia, and diabetes. Resistance training also assists in the maintenance of basal metabolic rate and promotes independence.
Resistance training performed two to three days per week for three to six months can improve muscular strength and endurance in men and women of all ages by 25% to 100%.
Furthermore, it is a fact that resistance training helps prevent falls and limits the susceptibility to falls. Resistance training also helps impaired physical function in frail and elderly persons and contributes to the prevention of and rehabilitation from orthopedic injuries. Consequently, most professional and government health associations or agencies now support the inclusion of resistance training in their current recommendations and guidelines.