Chairs and Recliners. Other uses are not recommended. Please observe the following precautions each and every time before exercising with our exercise bands: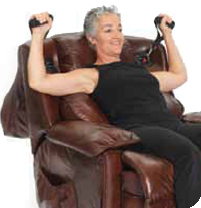 All Sit Strong Systems exercise bands should be inspected carefully upon delivery and prior to each use. Look for any nicks, punctures, or tears that may cause the band to break. DO NOT USE THE BANDS IF DAMAGE is found. Discard the damaged band and contact Sit Strong Systems for replacement bands.
All Sit Strong Systems bands are warranted against defects in materials and / or workmanship for 90 days from the invoice date.
Normal wear and tear or misuse of the bands will not be refunded or replaced.
Never stretch bands more than three times its resting length.
Return the exercise bands to their resting position in a gentle / fluid motion after each exercise. Releasing extended exercise bands creates a "Sling-Shot" reaction that could damage the bands, the band assemblies, or YOU.
Avoid exercises that involve stretching the bands in a manner that it may snap toward the head/face and cause injury to the eyes.
Keep bands and roller brackets at least 12 inches from face.
Keep bands away from heat, cold and sharp objects.
Exercise bands are not toys. Children should only use with adult supervision.
Life expectancy of the exercise bands is consistent with the amount of usage sustained. As a precaution, Sit Strong Systems exercise bands should be replaced every year if used in an institutional or commercial setting and every two years if used strictly for personal use.
SIT STRONG SYSTEMS ASSUMES NO LIABILITY FOR INJURY OR DAMAGES THAT MAY OCCUR WITH THE USE OF OUR EXERCISE CHAIRS AND RECLINERS. SIT STRONG SYSTEMS WARRANTS THAT THE DESIGN OF OUR BANDS IS IN CONFORMANCE WITH ALL APPLICABLE DESIGN STANDARDS, RULES, SPECIFICATIONS, REGULATIONS AND PRODUCT QUALITY STANDARDS APPLICABLE TO SUCH STRETCH BANDS.AT THE TIME OF SALE, THE BANDS SHALL BE FREE FROM DEFECTS IN WORKMANSHIP OR MATERIALS. SIT STRONG SYSTEMS EXPRESSLY DISCLAIMS ALL WARRANTIES OF ANY KIND RELATED TO THE BANDS OR THEIR SPECIFICATIONS OR DESIGNS, WHETHER EXPRESS, IMPLIED, OR STATUTORY, INCLUDING WITHOUT LIMATATION THE IMPLIED WARRANTIES OF TITLE, MERCHANTABILITY AND FITNESS FOR A PARTICULAR PURPOSE.